With the support of the local community and our Trustees, Ashover Parish Hall CIO has had another great year and we feel privileged to have been chosen to host a variety of exciting events and celebrations.
We were delighted to welcome back annual events such as the Parish Panto and Parish Party, the Children's Society Quiz, Dicky Tickers Party, VSCC Rally, AJFC presentation evening, Christmas Fayres and Skint Folk Festival.
A variety of successful classes and groups continue to use the hall, including Ashover Tots & Tinies, Children's Ballet & Theatre Dance Class, Yoga, Karate, Pilates, Dance for Beginners (Latin, Rock 'n Roll, Salsa & more), Puppy Training, Young Farmers, Village Art Group, Derbyshire Smallholders, Produce Club, Ashover Brass Band and Ashover OAPA.
New classes for 2017 in our Fabric Room are BALANCE chair-based and OTAGO (standing) exercise class for all levels of fitness, health or age, held every Tuesday 2pm – 3pm. Also, Moo Music, the fun music group for pre-school and infant children held on Thursdays 4pm – 4:45pm during term time.
The High Tor Players and Interesting Theatre Company brought their hugely popular productions to the Parish Hall in 2016 and we look forward to welcoming them back later this year.
There are new courses from the W.E.A and Floral Art with BBC 2 Florist Jonathan Moseley throughout the year, also Spanish for Beginners. Please see the hall's noticeboards or our website events page for further information.
Ashover Sports Pavilion is now jointly managed by Ashover Parish Council and Ashover Parish Hall CIO who cooperate in the management for the benefit of the populace.
The number of weddings held at the Parish Hall has seen an increase of 66% in the last 3 years and with a number of bookings for 2018 already being confirmed, this trend looks set to continue. Many hirers choose to 'dress' our main Amber Hall with a marquee lining which creates a stunning effect. Others embracing a traditional village hall theme with rows of trestle tables and bunting. Couples holding their wedding celebrations with us like to let their own personality shine through when it comes to decorations. We always look forward to Saturday mornings to see how the Bride & Groom have put their own stamp on the hall!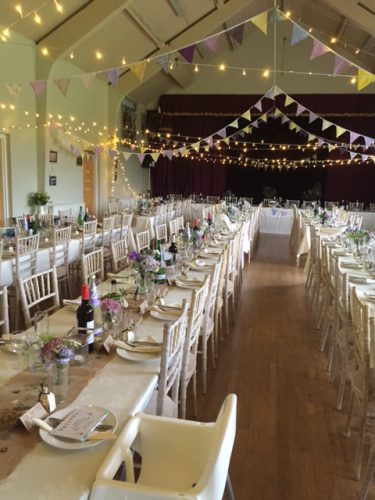 We're very excited for the launch of our new website which will be in the next few weeks. The site will be much more modern in appearance, and most importantly easier to navigate to check availability, upcoming events and news, to see reviews and photos and to make bookings. Our Facebook page and website have proven to be an invaluable tool for reaching new hirers and spreading word of classes and events being held at the hall.
We welcome anyone who would like our help to create the perfect event or celebration, to start a new class or for further details on any of the above classes, to please get in touch:
Tel: 01246 590005
Email: info@ashoverparishhall.com
Website: www.ashoverparishhall.com
Amy Corker
Manager, Ashover Parish Hall Events Centre