If like us here at Ashover you're are pretty clueless when it comes to wedding flowers (or any flowers for that matter) do not fear, for Avant Garden Event Hire and Floristry are here! Co-owner Laura has kindly shared her expert knowledge to help make sure you have fabulous flowers for your special day. Here are her top tips:
Consider your date
My first question to a potential bride or groom is always 'what is your wedding date?' so I can check that I am not already booked up.  It may sound obvious advice but many people make the mistake of thinking that booking the florist can wait until last. Summer dates book up FAST especially weekends. Often up to 2 years in advance. (Same here at Ashover Parish Hall Events Centre, Laura. Brides from the Chesterfield / Derbyshire / Sheffield areas must be naturally super organised!)
When considering your flowers you also need to think about what will be available at the time you get married. Just like food, flowers are seasonal, and some flowers are only available at specific times of the year.
Have a look and see if you are getting married around a national occasion?  Certain flowers fetch premium prices around special events and the flower growers know this. Around Christmas, Valentines day and mothers day expect to pay up to 5 times the usual amount for popular flowers such as Roses and Gerberas. Ask your florist for alternatives.
Consider your budget
When deciding on your wedding flowers the first thing you should do is decide on your budget. There are no set rules about how much you should put aside for your wedding flowers, but according to theknot.com you should be looking to put aside around 8% of your over all wedding budget for flowers.
Be open and honest with your florist about realistically how much you can spend. A good florist will be able to work within any budget, and it will help them narrow down your options. Ask your florist if they have any package deals or promotional offers on at the moment. At AvantGarden we have 4 set package deals for various budgets, from £150 to £1000. Even if those packages are not for you it will give you a good indication of what you can get for your money.
No matter how big or small your budget the overall quality of the flowers should be to the same high standard but be realistic – if your budget is small, chances are you wont be able to have those tall,  overflowing  martini vase arrangements that you have spotted in wedding magazines on every table. However, your florist will be able to offer budget friendly and practical solutions, such as alternating those arrangements of your dreams with more cost effective ones, or filling them with more greenery to bring down the price a little. Magazine and celebrity weddings can often give brides an unrealistic idea of what they can expect for their budget. Once you have decided on a budget you are happy with, you can work with your florist to achieve the best results possible for you money. A happy relationship with your florist is all about a little compromise and a little creativity. Any florist worth their, er, plant food will be able to suggest ways to get the desired effect without taking you over budget.
Decide on your theme
Weather it be vintage, tropical, centred around a colour scheme or type of flower, not everything has to match. Some brides try to match the flowers with the colour of the bridesmaids' dresses, table centres, jewellery etc, but everything ends up the same and the flowers end up blending in rather than standing out. For wedding flowers that have the wow-factor try mixing contrasting colours. For example, try holding a sunflower or an orange gerbera up against a dark purple or royal blue bridesmaids dress. The colours come alive and the sunflower really stands out. Contrasting colours can make a real statement and ensure that your flowers are never forgotten.
Decide on the essentials
I would suggest making two lists. Firstly, a 'must have' list.  Include all of the things that you just can't be without – for example; your bouquet, the bridesmaids' bouquets, centrepieces, buttonholes and corsages? Those flowers that you just couldn't live without. Write them all down.
Secondly make a 'wish list' include here all of the things that you would like but would be willing to sacrifice if it meant compromising on your essentials. Remember that you can always book and pay a deposit on what you need. If you find that you have the extra funds nearer to the date then ask your florist if you can add to your order. They won't mind making a little more money…I promise!!
Remember there are no set rules, you don't have to have a buttonhole for everyone, some people limit them to the main wedding party and some people like to buy one for every guest. Every single wedding I have ever done has been different. Have what YOU want – it is YOUR day!
Consider your dress
The general rule when deciding which flowers will suit your style of dress is the bigger the dress the bigger the bouquet.
Hand tied bouquets tend to flatter most dress styles; these are by far the most popular wedding bouquet ordered at AvantGarden.
Trailing bouquets are more traditional and work better with larger dresses. Trailing bouquets are to be avoided if your dress is slinky.
Sheaf/line or single stem bouquets work best with slinky dresses such as fishtail styles.
Ask your florist if samples are provided, that way you can try your bouquet once you have your dress on at your fitting. At AvantGarden we offer a bouquet sample service and for a small charge we will make you up a small sample of your chosen flowers. This allows you to see your flowers in advance of your big day. If there is something you would like to change or if you don't feel your flowers fit in with your dress exactly as you imagined, this is a great opportunity to change it.
Don't be afraid of expensive blooms.
Per stem hydrangeas, roses and peonies may cost much more per bloom, but you need to consider the fact that they take up much more space in a bouquet. You might feel that the 'gathered look' bouquets must be cheaper as they look picked fresh from the garden. But you need to consider that these flowers still have to be bought and shipped in from wholesalers all over the world. Each stem has to be unwrapped and conditioned which all takes time, and time means added cost. Having a lot of inexpensive stems in your bouquet can often end up costing more than a few expensive stems.
Don't be afraid to get your hands dirty
If you want to be involved with creating some of your flower arrangements, or mum/nanna is a keen flower arranger and would like to be involved then go for it! Just don't take on too much. As easy as it can look, wedding flowers are not just a night before the wedding activity. Preparation for a big wedding can take up an entire week for a florist. Some blooms open faster than others, you have to know exactly when to buy them so they will look their best for the big day. There are buckets to clean, different types of flower food, the flowers will all need conditioning and keeping at different temperatures….the list goes on. So get involved, but perhaps leave the most important parts to the professionals. You don't want to be falling asleep into your starter because you were up all night making flower arrangements.
Why not ask your florist if they can recommend which bits you could possibly do yourself. If you can arrange some of the centrepieces yourself this may free up more money in your budget to have more flowers in the bouquets.
Think about re using arrangements. You may want a pedestal arrangement for the church. Find out if family members would be willing to move it to the reception for you? We offer a service where we can do this for you. It's often more cost effective for you to pay us to move thing than for us to make the same arrangement again for the reception.
Trust your florist
We are here to help and offer you advice. We want your big day to be special and we want you to be happy with the service that you have received from us and recommend us to all of your friends.  Your flowers will be on your wedding photographs for the rest of your life and so will our reputation. We want to make it perfect. Whichever florist you use, make sure they are of the same mindset!
Take care to choose a florist carefully. This will allow you to be flexible with your florist, and allow them to be creative. Florists are artistic people by nature and take great pride in their work. If we are left to invent we will create something much more spectacular than just copying a photograph from a magazine. Remember that we know all the tricks of the trade, we know how to get you the maximum out of your budget and we can produce ideas that may have never crossed your mind.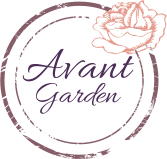 Avant Garden specialise in floristry and event hire. Run by Laura and Scott they offer amazing products and fantastic customer service, so whatever you need for your occasion, from bird cages to button holes or chair covers to centrepieces, they can provide you with those finishing touches that will make your day extra special.
Thank you Laura for your inspiring tips. I think our brides, and anyone else who stumbles across this blog, will certainly find them very helpful. Flowers sometimes aren't at the top of a bride's 'to do' list. After all, there is so much to think about and, understandably, the fundamentals such as venue (Ashover Parish Hall Events Centre is the best venue around the Chesterfield area of course), food and entertainment take precedence as the wedding wouldn't be able to go ahead without them. But floral arrangements and decorations can, and do, really make a difference to the overall fabulousness (yes, I made that word up) of your wedding so it's worth taking the time to get them right.
Like Avant Garden on Facebook to see more photos of their floristry work, the decorations available for hire and to keep up-to-date with any special offers.