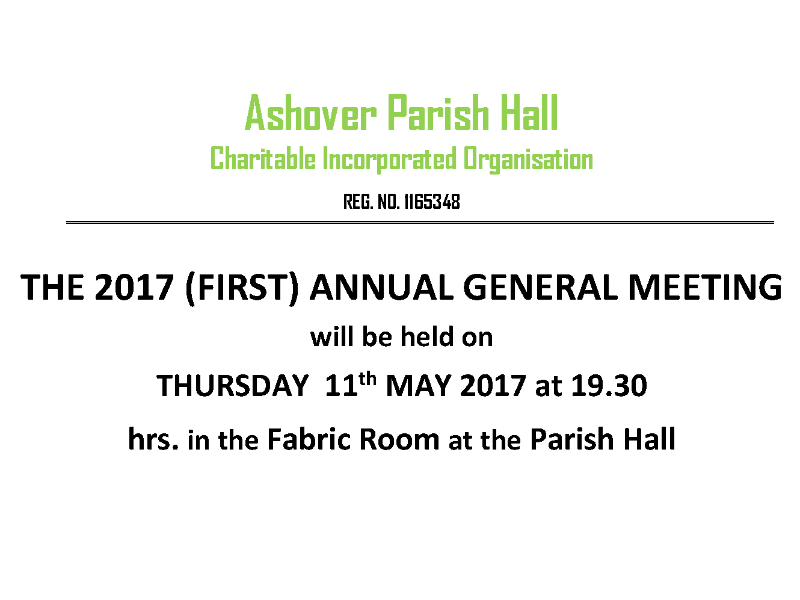 The 2017 (first) Annual General Meeting will be held on
Thursday  11th May 2017 at 19.30 in the Fabric Room at the Parish Hall
Agenda
Chairman's welcome.
 Minutes of previous year's meeting.1
 Trustees Annual report for 2016 – 2017.
 Treasurers report for 2016 – 2017.
 Election of six trustees.
 List of nominating bodies and nominated trustees.
 Coopted trustees (if any).
Forms for nomination of new trustees can be obtained from the manager at the Parish Hall.
Correctly completed forms must be received at the Parish Hall not later than Sunday the 23rd April 2017.
Any groups or organisation not currently included in the list of nominating groups who wish to be included can apply in writing to: –
Ashover Parish Hall CIO, Ashover Parish Hall, Milken Lane, Ashover, Chesterfield. S45 0BA
Telephone:  01246590005.
Email:  info@ashoverparishhall.com  or aphsecretary@w3z.co.uk
Due to this being the first AGM of the Ashover Parish Hall Charitable Incorporated Organisation there are no minutes for the previous year's business.
Full agenda – AGM agenda 2017