The opinions of our guests and visitors are very important.  They often leave Ashover Parish Hall making positive comments and some leave lovely messages on our Facebook page.
A recent happy customer, who enjoyed a beautiful winter wedding, left us this message:
It's lovely to hear such kind words and we are delighted that we could help you enjoy your big day so much.
Becky and James married in September and sent us this cute thank you card: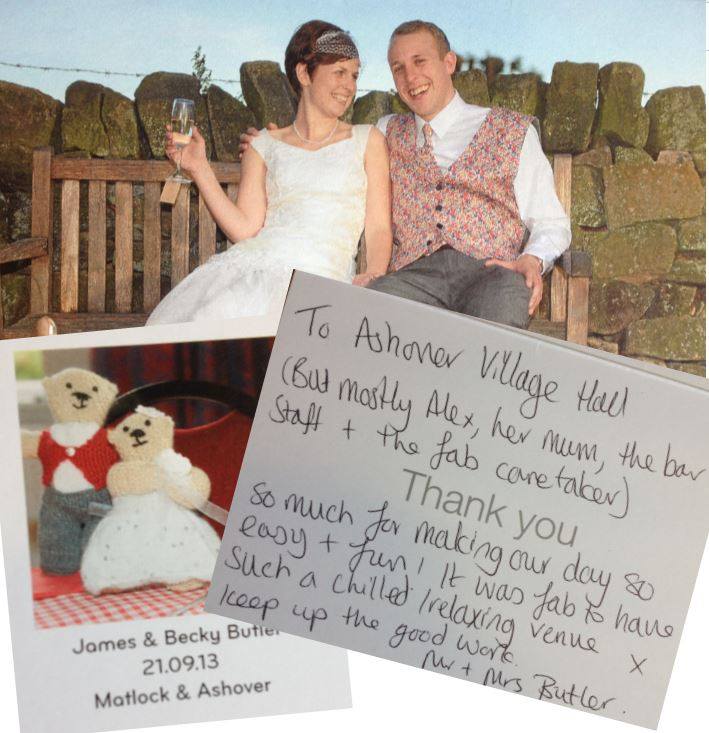 John, our caretaker, helped Becky and James decorate the room with bunting, fairy lights, paper lanterns and great big branches! It looked great and their ideas have inspired many of this year's couples to do similar.
More Facebook messages:
Thank you Donna. Your wedding day was really beautiful and we're glad you celebrated at Ashover Parish Hall.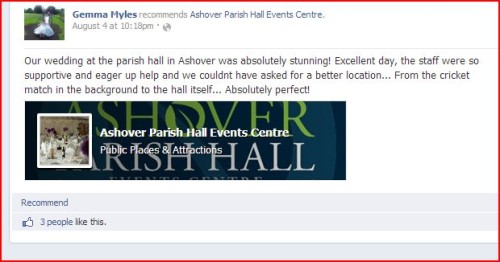 Thanks for your comments Gemma.  Your wedding day was beautiful and we're so glad we could share it with you.  Wishing you lots of luck for the future.
Another Facebook post, from a more unusual use of our Chesterfield function venue.  Skint International Music and Dance weekend is held here in November.  Last year's event was certainly a success with this Facebook user.
You can read more about this inspiring folk festival on this blog.  The pictures of Ashover Parish hall look fantastic and really show how we can be transformed for different events.
Thinking about this annual event makes me look forward to autumn: music, Halloween and hot dogs.  What's not to love?
UPDATE – The 2014 Skint Festival will be held from the 31st Oct to 3rd Nov. Make sure you keep an eye on their Facebook page from August (tickets are sold in batches) for details.